Moving Blankets & Moving Pads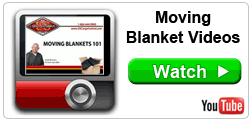 Choose a Moving Blanket from the Chart Below
Three things determine the quality of a moving blanket: weight, blanket material, binding material.
There are 3 different types of fabrics commonly used in blankets - non-woven polyester, woven polyester and cotton/poly blends. Higher quality fabrics generally increase the overall weight of a moving blanket. Read More»
Best
Cotton/Poly fabric blend
Woven polyester binding
Maximum protection
Black / White
Ultra heavy weight
Great for sound proofing or as pet bedding
Machine washable/hang to dry

1 Dozen Bundle

MBSUPREME95-12PK

4-Pack

MBSUPREME95-4PK

Single

MBSUPREME95-EA
Microfiber fabric
Woven polyester binding
Heavy weight provides excellent protection
Blue both sides
Guaranteed colorfast
Softer microfiber fabric is great for pet bedding
Machine washable/hang to dry

1 Dozen Bundle

MBPRO82-12PK

4-Pack

MBPRO82-4PK

Single

MBPRO82-EA
Better
Woven polyester fabric
Non-woven poly binding
Dark Blue / Light Blue
Heavyweight
Good for repetitive use

1 Dozen Bundle

MBMEGA85-12PK

4-Pack

MBMEGA85-4PK

Single

MBMEGA85-EA
Woven polyster 1 side; non-woven poly under
Non-woven poly binding
Good "middle of the road" blanket
Green / Blue
Good for repetitive use

1 Dozen Bundle

MBMULTI75-12PK

4-Pack

MBMULTI75-4PK

Single

MBMULTI75-EA
Woven polyester fabric
Non-woven binding
Mid-weight
High quality
Hunting/camping
Good for repetitive use

1 Dozen Bundle

MBCAMO-12PK

4-Pack

MBCAMO-4PK

Single

MBCAMO-EA
good
Non-woven fabric
Non-woven binding
Lightweight
Blue / Blue
Economical choice for one time or limited use

1 Dozen Bundle

MBSAVER43-12PK

4-Pack

MBSAVER43-4PK

Single

MBSAVER43-EA
skin
24 moving skins per bundle
72" x 80"
52 lbs. per bundle of 24
Recycled cotton fabric
No binding
Non-quilted filler only
Lightweight, light usage

24-Pack

MBSKIN24PK

6-Pack

MBSKIN6PK
Shop all of our moving supplies by clicking the links below.
Valuables can be easily scratched or dented in the back of a moving truck. Moving blankets prevent damage by wrapping your valuables with a thick protective covering. Blankets also make great moving pads as well and can help protect larger objects from scuffs, scrapes, dents and abrasions. Moving blankets are typically made of strong, woven synthetic fabric or with non-woven fabrics and filled with cotton batting.
The two main ways to compare a moving blanket are by comparing weight and by fabric type. Woven fabric is more durable, but costs more than non-woven fabric. When blankets need to be reused a woven fabric is best. Higher quality fabrics make heavier moving blanket bundles. Moving blankets come in many different weights; however the most commonly available size for a moving blanket is 72" x 80". Some blankets are constructed using thicker, battier cotton to make them more protective against shocks and bumps.
Moving blankets provide much greater protection and durability than cheap paper moving pads. Unlike paper pads, moving blankets do not easily tear during the move. Blankets can also be used over and over, making them more economical than paper pads. This is essential for any moving business, including shipping companies, moving companies, and for delivery services such as furniture and electronics stores. Moving blankets can be used for more than moving. Moving blankets can also be used for long term storage of larger objects, like furniture.
Moving blankets (moving pads) usually produce better results when used in conjunction with ratchet straps and rubber bands rather than tape. Moving straps and mover bands often give a much better hold on large objects than box tape. Additionally, tape can leave a sticky residue on your blanket or your furniture. Also, packaging tape cannot be reused, while straps can.
Moving blankets and moving pads are very important in the cargo business. Moving blankets are an invaluable tool used when transporting furniture or any other manufactured goods in need of quality protection. When using cargo control straps - such as ratchet straps, tie downs and/or winch straps - it is important to also use a moving blanket to protect the furniture from scratching or breaking.
Moving blankets are commonly referred to as moving pads, van pads, warehouse pads, quilted moving blankets or furniture moving blankets. When purchasing moving blankets, three things should be considered to help you make the right decision. The first choice is deciding on the weight of the blankets. Moving blankets are typically sold in bundles of 12. For example, a dozen moving blankets advertised at "75 pounds per dozen" would mean that each blanket weighs 6.25 pounds. Heavier moving blankets protect furniture better than lighter moving blankets because the pad between the quilted fabric is thicker.
The second thing to consider is whether or not the fabric is woven or non-woven. Woven fabric is used on higher quality moving blankets and is more durable than non-woven fabric. Woven fabric can be made from polyester, polyester/cotton mix or even 100% cotton for maximum protection. Woven fabric is softer and offers the best "feel" for the most precious cargo. More economical furniture moving blankets are made from non-woven quilted fabric and work great as warehouse pads and storage blankets as well as for the occasional move.
The third thing to consider is the quality of the binding. The binding is the fabric around the outside edge of the moving blanket that ties everything together. Binding can be made from woven or non-woven fabric as well. Binding prevents the edges of a moving blanket from fraying, thus increasing the life expectancy of the blanket.
A licensed mover is required to use some type of moving pad, paper, or moving blanket when moving quality furniture or anything breakable during transit. Moving blankets and moving pads are important especially if you are a service provider in the cargo business. A service provider's main purpose is to provide quality workers that are highly trained in using tie downs, ratchet straps, winch straps, and many other tools used by the moving industry. A sound reputation will be built by using these devices along side moving blankets and movers pads to prevent damage to cargo.
U.S. Cargo Control offers everything from cheap moving pads to high quality moving blankets. Our blankets protect your large valuables, furniture, appliances, tv's and other cargo from damage during a move. We can supply you or your business with the best quality moving blankets on the market. Most of our blankets are sold by the dozen to save you money, however, they are also available in individual counts. Call us today toll free at 800-867-1210 to find out which moving blanket is right for you.