4 Inch Webbing
Our 4" webbing is available in both nylon and polyester. Choose this durable, lightweight, fabric web based on your job: polyester has little stretch so it's best for tie down uses; chose nylon for recovery straps where stretch is needed.
Have questions about our 4 inch webbing, or any of our webbing products? Call us today at
866-444-9990
and let one of our product experts help find what you need. Custom straps are also always an option.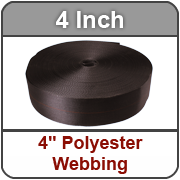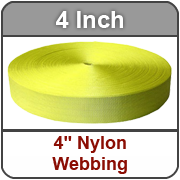 Also Shop:
4 Inch Ratchet Straps
Nylon webbing is best for jobs like recovery straps and some lifting slings, where a stretch is needed. Our nylon 4" webbing has a tensile strength of 28,000 lbs. and comes in bulk roll of 300'. Yellow is available onlne, but custom colors are available by calling our sales team at
866-444-9990
.
For jobs that require very little flexibility such as tie down uses (ratchet straps, cam straps, winch straps, cargo nets, etc.), choose polyester webbing. For accessories to make your own custom
tie downs
, shop our
ratchets and cam buckles
,
flat hooks
, and
wire hooks
categories.
Most of our polyester 4 inch webbing products have a tensile strength of 20,000 lbs., with one yellow strap offering an impressive 24,000 lbs. tensile strength—one of the strongest available on the market today. All of our 4" polyester webbing is available in 300' bulk rolls, or by foot increments, and in the following colors: blue, green, red, yellow and black.
If you're not sure if 4 inch webbing is the right choice for you job, contact our product specialists at
866-444-9990
for advice. They'll also be happy to place your order if needed.