Wheel Chocks for Trucks and Trailers
Wheel chocks are designed to keep a vehicle from rolling backward or forward while parked idle, or while parked for maintenance, unloading, loading, etc., Because there are a range of vehicle and trailer types and tire sizes, they're manufactured in a variety of styles.

Also called trailer chocks, truck wheel chocks, or trailer wheel chocks due to their common use in the commercial trucking industry, a wheel chock is a relatively inexpensive piece of equipment that can ensure the safety of those working around the vehicle.

Types of Chocks for Trucks and Trailers

Rubber. Rubber wheel chocks are durable and lightweight. Because they are generally molded into shape, they often have eye bolts or handles molded directly into them during the manufacturing process. While rubber is durable, they are not as resistant to the elements as other types of tire chocks such as urethane, so they are commonly used in warehouses and other enclosed areas.

Urethane. A urethane truck / trailer wheel chock can withstand high impact yet are lightweight easy to move. Urethane also retains its strength and elasticity and is resistant to weather elements and general abrasions. It's also resistant to oils, fuels, and lubricants, and won't rot, crack or chip over time.

Metal. Aluminum and other types of metal are good for lightweight, general use wheel chocks such as small utility trailers, cars, and light-duty trucks. If exposed to outdoor elements over time, they can rust and corrode.

Whether you choose metal, rubber, or urethane, it's important to visually inspect your wheel chocks regularly for cracks, chips, and other signs of wear and tear.

Wheel Chock Styles

The two most popular styles of wheel chocks are pyramid and curved (also sometimes called wheel chock wedges).

Pyramid wheel chocks are just that- a pyramid shape so it can be used on either side, making it the most versatile style. A curved wheel chock has a flat back, with a deep curved profile to cradle a tire more so than a pyramid style. Both types of wheel chocks work equally as well in most situations, and the decision on which to use is generally just a personal choice.

Wheel chocks for motorcycles are different due to the narrow tire. A Motorcycle Wheel Chock also serves a different purpose than wheel chocks for trucks and wheel chocks for trailers, in that it is used to hold a motorcycle upright on a trailer for transport.

Choosing Wheel Chocks for Trucks and Trailers

Once you have determined the type of wheel chock you need and the style you want, measure your tire to find the right size. For standard truck and trailer size wheels, you should choose a wheel chock that's about ¼" of the height measurement of the tire. For example, a 34" tire requires a wheel chock that's at least 8.5" high. Along with the tire height, you also need to choose a chock that is wider than your tire's diameter. For oversized, industrial vehicles, wheel chocks may not abide by the ¼" height guideline. In those cases, consult the vehicle's owner's manual for correct size and use of truck chocks.

When choosing wheel chocks, it's also important to remember the terrain's grade and condition (soft, firm, wet, etc.) where the truck or trailer will be parked and consider using two chocks to provide adequate protection against rolling.

How to Use Wheel Chocks for Trucks and Trailers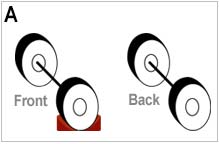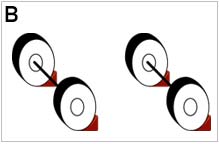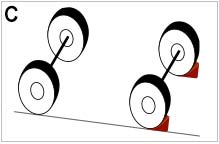 A: Parking on a flat surface : place wheel chocks on both sides of the driver side tire.
B: For extra safety or heavily weighted axles: place four wheel chocks on two axles.
C: Parking on a grade: place two wheel chocks against the grade of one axle.

Wheel Chocks Regulations

Regulations for trailer and truck wheel chock use vary by government agencies. For information on rules and regulations regarding wheel chocks from the Occupational Safety and Health Administration (OSHA) and the Federal Motor Carrier Safety Administration (FMCSA), see our blog post: Wheel Chock Regulations: What's Required and What's Just Common Sense

Questions?

Have questions about which of our truck wheel chocks are best for your application? Need travel trailer wheel chocks you don't see here? Wondering about regulations for wheel chocks for trailers? Give our sales team a call at 800-969-6543, they'll be happy to help and will do their best to help find what you need.