E Track Straps & Tie Downs
Safely secure your cargo in your enclosed trailer or truck with our complete line of
E track
, E track straps, and E track tie down hardware. E track is an industry standard for keeping cargo, equipment and even vehicles tied down during transport. With e track straps and other tie down hardware, you can tie down just about any type of cargo or load.
Our E-Track is Made in the USA.
E-Track Ratchet Straps
Crank (ratchet) to tighten
Higher break strength and working load limit
Better for securing a load

E-Track Cam Straps
Pull to tighten
Great for precious cargo; you control the tension
Easier tigthen/loosen process than ratchets

Shop all E-track and Van Trailer Straps
.
Should I use a Ratchet Strap or Cambuckle Strap?
What's the difference between ratchet straps and cambuckle straps? Ratchet straps can be tightened much more than cambuckle (cam) straps. The ratcheting action allows the user to crank the webbing of the strap around the ratchet's mandrel, using leverage and force to pull the strap very tight. This tension makes e-track ratchet straps better for securing large, heavy loads. E-track ratchet straps also have a higher break strength and higher working load limit than cambuckle straps.
Cambuckle straps are simpler and quicker to use than ratchet straps. Tension is more easily controlled with cam straps which makes them perfect for lighter cargo. Cambuckle e-track straps work by threading the webbing through the cambuckle, then making it taut by pulling the loose end of the webbing away from the cam buckle. Gnurled grips on the cam buckle use friction to prevent the strap from loosening during transport. Cam buckle e-track straps are quick to secure and more convenient to use for controlling lighter loads that don't require the strong tension offered by ratchet straps.
Horizontal Galvanized E-Track

What Is Horizontal E-track?
Horizontal e-track has slots that run perpendicular (at 90 degree angles) to the sides of the e track rail. These slots are spaced tightly together at approximate 2" intervals. Horizontal e-track can be mounted on the floor or bed of a trailer as well as on the walls of enclosed trailers and cargo vans. The slots in horizontal e-track rails provide numerous tie down points for cars, ATVs, snowmobiles, motorcycles and cargo on pallets. When mounted on the floor of a trailer horizontal e track rails provide numerous anchor points for axle straps, d-rings and rope tie off points. Horizontal etrack installed on the walls of a trailer gives you anchor points for cargo nets and rope tie-offs to secure equipment, spare tires or to hold objects flat against the side of a trailer wall.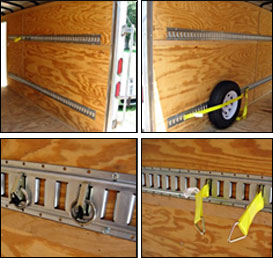 Horizontal Painted E-Track - Gray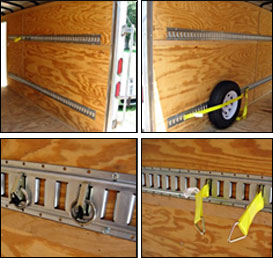 Vertical E-Track

What Is Vertical Etrack?
Vertical e-track sections have anchor points that run parallel with the e-track rail. Vertical e-track is commonly used in van trailers to provide numerous tie down points accommodating cargo of various sizes and heights and provides the support system for shoring beams (or "decking beams") to create a second level for cargo. Compared to horizontal e-track, it has a narrower profile and permits d-rings to be mounted perpendicular to the floor.
There are not "rules" for deciding between installing vertical etrack or horizontal etrack in a trailer. Consideration for the type of cargo you intend to transport and the type of trailer you have (are there wheel wells or cabinets in the way?) are the primary factors to help you decide.
Call the product experts at US Cargo Control if you need help deciding which system to use -
800-969-6543
.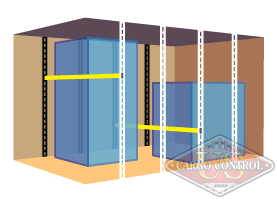 VERT5P-G

VERT5GV
What is the difference between horizontal and vertical E Track?
Vertical E Track slots run parallel with the length of the track. Horizontal E Track has slots that run perpendicular to the length of the track. Note: Vertical and horizontal e track can be installed on either the floor or walls of a trailer to suit your hauling needs.
E-Track Fittings
What Are E-Track Fittings?
E-track fittings provide a simple and effective method for connecting a strap to e-track by using a simple lever to fasten the fitting onto the etrack. When locked, e-track fittings provide a strong, reliable tie down point that can be easily moved.

Round ring e-track fittings provide a tie down point for using ratchet straps with s-hooks, snap hooks or j-hooks. There are also e-track tie downs with d-rings that provide the same versatility for securing cargo. E-track rope tie-offs feature a piece of 6" long webbing with an e-track fitting on one end, and a d-ring on the other.

You can also create a decking beam by using e-track wood end sockets. These specialized e-track fittings are designed to hold a 2x4 or 2x6 across the width of your trailer to act as a shoring beam or deck beam.
SEF1018L

SEF1018U

RTO6-Y

SEF1017

HDRTO6-Y

SEF1017DR

SEF1017RR

WES-100

ET-USCCBAG-BLK
Shoring/Decking Beams
Using Shoring Beams & Decking Beams
US Cargo Control shoring beams (also referred to as "decking beams") are lightweight, strong, and adjustable to fit various trailer widths. Shoring beams are used to lock cargo in place in a trailer by preventing it from sliding forward or backward during transport.

Decking beams are shoring beams used in an alternate application. Two decking beams at the same height on two parallel e-track rails creates a deck - or a second level - for additional pallets or cargo. Smaller, loose items may require installation of plywood sheet or (another appropriate material) to create a level surface across the top of the beams for cargo.
Adjusts from 85.7" - 96.6"
Weighs only 16 lbs.
Quantity rates available; call for 25 piece bundles

SB85

$53.89

$53.89

Adjusts from 92" - 103"
Easy release mechanism.
Call for BEST shipping rates on 15 pieces or more.

SB92

$54.99

$54.99

NEW LOWER PRICE!

Adjusts from 92" - 103"
Call for BEST shipping rates on 15 pieces or more.

SSB92

$47.29

$47.29

Adjusts from 85" - 96.6"
Call for BEST shipping rates on 15 pieces or more.

SB85A

$63.99

$63.99

Adjusts from 92" - 103"
Call for BEST shipping rates on 15 pieces or more.

SB92A

$65.99

$65.99

Adjustable from 89-3/4" to 104-1/2"
Call for BEST shipping rates on 15 pieces or more.
Minimum purchase quantity of 4

LB200

$19.99

$19.99
E-Track Fasteners
These fasteners are the most common hardware used to attach e-track to your trailer. Please watch our installation video if you want details on
how to install e-track fasteners
.
ETBOLTPACK15

$2.49

$2.49

ETBOLTPACK2

$2.99

$2.99

ETHEXSDPACK15

$3.09

$3.09

ETHEXSDPACK2

$3.29

$3.29

ETHEXWSPACK34

$2.65

$2.65

ETHEXWSPACK15

$2.75

$2.75

ETPHWSPACK34

$2.55

$2.55

ETPHWSPACK15

$2.65

$2.65

ETHEXSDPACK1

$2.69

$2.69
E-Track Singles
Using Shoring Beams & Decking Beams
With E-Track singles, you can create an anchor point for tie downs anywhere that you can mount the e-track single.

E track singles are perfect for where space is limited or a when a two foot etrack section is undesirable like pickup beds, behind wheel wells, and tail gates. E-track singles are also ideal for use on carts, dollies and for pallet racks in warehouses or manufacturing facilities.
More About E Track Straps & Tie Downs
We offer a full line of
e track,
e track tie downs
and
e track ratchet straps
as well as many
e-track tie down
hardware options to provide a complete
e-track system
. This is our most up to date offering of
E-Track Straps
,
e track rope tie offs
,
spring e fittings
,
shoring beams
and more. For a small one time fee you can even have your company name and/or telephone number printed on your logistic straps. If you don't see what you need you can call us toll free at
800-969-6543
. We will be happy to help you find what you need.
E track straps
are used for
cargo control
during transportation usually in an enclosed trailer. Use e-track for trailers, cargo vans, moving vans, enclosed semi trailers and other logistic applications. Various cargo and equipment can be tied down using
e track
for the purpose of constraining the cargo in horizontal, vertical, lateral and radial directions.
E Track straps
control the movement of cargo during transportation by integrating durable polyester material with
tie down
hardware that secures the load to the track. E-Tracks are typically made from high strength 12 GA steel and may be attached with screws, rivets or by welding. Welding of
galvanized e track
should be done in a well ventilated area. Welding fumes may be toxic.
E Tracking is commonly sold in 2', 5', 8' and 10' sections and is offered in painted or galvanized finish.
Horizontal E Track
is most commonly sold but
Vertical E Track
is also available.
Ratchet straps
and
cam buckle straps
are types of
e track straps
. Each
e track strap
has a rated capacity and working load limit so the consumer decides the best fit for each application. The rated capacity is the load an e trac strap assembly can endure in a pull test performed by a testing facility for safety purposes. The working load limit is the maximum weight an
e track strap
assembly can be exposed to during daily use. This value should be one third of the rated capacity of the
e track strap.
In addition to
e track ratchet
and
cam straps
other hardware fittings can be used to contain your cargo inside a trailer.
Rope tie offs
or
spring e fittings with d-rings
are great to have in your truck or trailer and offer a quick snap in way to create a
tie down
point. In addition
wood end sockets
can be used with dimensional lumber to create a wall or shelf system as well.
E track tie down systems
are an industry standard and are readily available from US Cargo Control.