US Cargo Control Shipping & Returns
We ship via FedEx, UPS, USPS, and LTL carriers, and use the carrier offering the lowest price based on package size, weight, and final destination.

We strive to ship orders the same business day, when received by 4pm CST. Orders placed after 4pm CST on Friday will ship on Monday.

Orders placed after 4pm Central time cannot be guaranteed for next day delivery if placed online. If you require next day delivery, please call our sales team at 888-794-0964 to discuss delivery options.

The maps below show the standard transit time for products shipping from our warehouse in Urbana, Iowa.

Please Note:

Transit times do not include the day that the order is placed, or weekends and holidays.
These times may not apply if yours is a custom order or drop-shipped from a manufacturer. Information about the stock status of a product is displayed near the "Add to Cart" button on the product page. You can also call our sales team at 888-794-0964 for more information on the lead time and transit time for custom or drop-shipped orders.
Special destinations: Please call us for shipping rates and times to Alaska and Hawaii.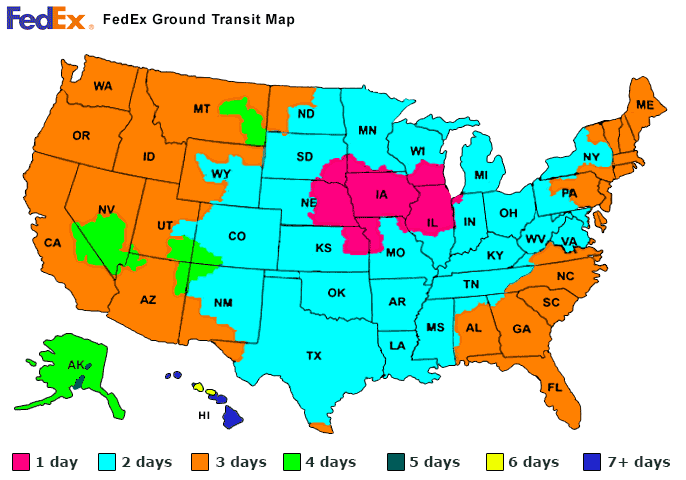 Shipping options
Standard Ground Shipping
We ship Standard Ground Orders via FedEx or UPS, whichever offers you the best price, depending on the size and weight of your order.
Priority Ground Shipping
A guaranteed ground service, Priority Ground orders will ship out the same day when placed before 4pm on weekdays (excluding weekday holidays and custom, made-to-order items). Any order not received within the quoted transit time will be credited a full refund of the shipping expense (some exclusions may apply). We ship Priority Ground via either Fed Ex or UPS, whichever provides the best price for you, depending on the size and weight of your order. Please note, if delays occur with carriers due to inclement weather, we cannot guarantee your order will arrive by the quoted delivery time.
Expedited Shipping
All in-stock items are eligible for expedited shipping. Our Expedited shipping options include:
3 Day Guaranteed
2 Day Guaranteed
1 Day Guaranteed by 5pm
1 Day Guaranteed by 11am
If you require one day delivery, please call us to place your order so we can verify your items are in stock. Our expedited shipping option is a guaranteed service. Any order not received within the quoted transit time will be credited a full refund of the shipping expense (some exclusions may apply). Please note, if delays occur with carriers due to inclement weather, we cannot guarantee your order will arrive by the quoted delivery time.
LTL shipping
LTL is an acronym for Less than Truckload, and is method used for shipping larger, oversized items. Prices are Freight On Board (FOB), Urbana, Iowa. Please call our sales team at 888-794-0964 for the most current information on pricing and any additional fees that may apply to your order.
Online orders over $2,000 ship free of freight charges within the contiguous 48 states unless partial delivery is required.
Partial delivery shipments and shipments to Alaska, Hawaii, and Puerto Rico will incur freight charges.
Freight charges are dependent upon carrier rates and therefore subject to change without notice.
Additional fees for lift gates, calling ahead, appointment deliveries, residential and limited access deliveries may apply.
Order confirmation and tracking
Once your order is placed, you will receive a confirmation email, and another email with tracking information once your shipment leaves our warehouse. If you do not receive an email or phone call from our staff within 48 hours of placing your order, please contact us at 888-794-0964. You can check the status of standard, priority, and expedited shipments on either the
UPS
or
FedEx
package tracking website. UPS & FedEx guaranteed ship dates are guaranteed by UPS & FedEx and not US Cargo Control, but we will do our best to assist you in tracking your package after it leaves our facility. For information on the status of LTL shipments, give our sales team a call at 888-794-0964.
Billing
If your order is split into multiple shipments, your credit card will be charged each time a shipment is sent. If this happens, you will see multiple charges on your credit card. The total shipping amount will be charged with your first shipment.
Returns
We want our customers to be 100% satisfied with their purchase from US Cargo Control. Returns must be approved in advance. Please call 888-794-0964 or email
CustomerService@USCargoControl.com
to get your Return Authorization (RA) number prior to shipping any product to us.
Important guidelines for all US Cargo Control returns:
All returns must be clearly labeled with your RA number.
Returns must be in like new/unused condition to receive a refund.
Returns may only be made within 30 days of receipt of your order.
Customers are responsible for arranging shipping and any shipping costs related to returning the merchandise. We recommend using a carrier that will provide a tracking number for the shipment. Please keep the tracking number for reference until your return has been processed.
Shipping charges for the original order are non-refundable.
A 20% restocking fee will be applied on all approved returns.
Unfortunately, the following items cannot be accepted as returns. If you believe the item you receive is not representative of what you ordered, we will do our best to make it right:
Custom orders made to specifications
Lifting slings and recovery straps
Rigging items, such as shackles, clips and links, eye bolts, hooks, and wire rope products
Cut rope
Defective, damaged, or missing products
Should your items arrive damaged, defective or missing, please contact us within 3 days of receipt so that we can work with you to ship replacements or missing items right away.
Lost or damaged packages
If you do not receive your order, or the package is damaged, and you don't receive a satisfactory response from the shipping carrier, we want to help. Please contact us within three days after delivery (or the date it was expected to be delivered) and follow these guidelines to expedite the claim process:
Inspect every shipment for lost, missing, or damaged merchandise (be sure to count containers if your shipment came in multiple containers).
If possible, take pictures of the damage and email them to us at CustomerService@USCargoControl.com.

With our EZ Ship Canada Program
No extra fees- the checkout price is the final price you'll pay.
An easy, one-rate price structure means your order arrives at your door with no hidden handling charges.
Customs fees (duties, tariffs, and taxes) are already included in your shipping rate in the cart.
Shipping rates are determined by the order weight and are added during checkout.
Duties, tariffs, and taxes are determined by each product.
All prices on our website are in U.S. dollars.
Currency is automatically converted when your credit card is processed.
Returns are based on the conversion cost at the time of the return, not the time of purchase.
Because we consolidate Canadian shipments together to provide lower cost shipping options, tracking numbers will not show movement until shipments reach Canada. Once they have reached Canada, packages can be tracked more closely.
Some items may be stocked by our vendors. Please allow up to two additional business days for drop ship item delivery.
Transit map time frames are in standard business days.

*International shipments are subject to Canadian Customs clearance and may result in delivery delays, please contact us at 888-794-0964 for tracking updates.