Moving Boxes & Packing Supplies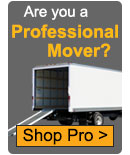 When it comes to packing for a move, or just packing items to ship, moving boxes and packing supplies are essential. Not only will the right packaging materials and quality shipping boxes make the job easier, they will also safeguard your items to lessen the chances of damaged or broken belongings.
With a range of packing boxes, packaging supplies, and more available at US Cargo Control, it's easy to find just the right shipping and packing supplies you need. We have a variety of wholesale packing supplies like special purpose packing boxes for moving, packing materials, and shipping supplies.
All US Cargo Control moving and packing supplies are in stock and ready to ship immediately so you'll have what you need quickly.
If you don't see the moving boxes or other supplies you're looking for, contact our sales team toll free at
800-989-4863
and a packing and shipping supplies expert will be happy to help you find what we need.
Whether you're packing something fragile to ship across town or packing all of your belongings to move across the country, the right packing and moving supplies are a must, but they don't have to be expensive. Our wholesale packaging supplies offer quality and affordability, so you won't have to risk damage by resorting to cheap moving boxes.
If you're planning a move, moving /packing boxes will be at the top of your shipping supply list. US Cargo Control sells four basic sizes from small to x-large boxes. Sold in bundles to keeps prices lower, these discount packing supplies will make up a large part of your moving budget.
Not sure how many boxes /packing supplies you'll need? Obviously, the amount of packing supplies for moving will vary, but a good rule of thumb to get you started is based on your number of rooms. For 1 -2 rooms, plan on 8-10 small boxes, 3-5 medium boxes and 3-5 large boxes. To calculate the number needed for more rooms, simply double these numbers to estimate what you need for packing supplies boxes.
Keep in mind that these rough estimates do not include special purpose moving and shipping boxes. These are boxes designed specifically for items that can be hard to pack and/or are expensive: flat screen television boxes, lamp boxes, boxes with partitions for dishes and glasses, golf bag boxes, frame/art boxes and guitar boxes. Along with the right packaging materials like bubble wrap and packing paper, using specialty boxes can help you lessen the chance of damage to your items. A wardrobe box is another special purpose box that you should add to your packing /moving supply list. These tall boxes come with a hanging bar inside so you can move your clothes right on their hangers. Pack hanging clothes tightly so they are less likely to shift and cause items to fall off the hangers while in transit. There is usually room on the bottom of wardrobe boxes for other closet items like shoes, handbags and belts.
Even with a range of box sizes available, you will still come across an odd-shaped item that you'll need to box up, or you'll have a box that's too big to use to properly package an item (boxes should always be filled to capacity; a box that's underfilled is more likely to be crushed). A carton sizer is a shipping supply necessity- it's designed with ruler markings so you can cut a box down to the exact size you need quickly and easily. Creating a custom-sized box can save money since there's less fill needed. This is especially important if you are boxing up something to mail, which means a higher shipping cost.
Packaging products like paper and bubble wrap are some of the most important of all packing supplies. Regular newspaper will work as a filler in boxes, but can leave black marks from the ink on your items. Plain paper in a newsprint weight gives you the fill you need, without the mess. Sold in a bundle, they are cheap packing supplies, yet an important part of the packing process.
Your list of packing materials for moving should also include stretch wrap, also sometimes called "mover's wrap." It's great for bundling or binding items together, and with no adhesives or sticky surfaces it's mess-free when you remove it.
Also don't forget tape and permanent markers when you're shopping for moving /packing supplies. Heavy-duty shipping tape on a dispenser is great for one-handed use when taping up boxes. A black permanent marker is the best way to mark boxes, so be sure to mark those that contain fragile items. Along with using a marker, consider buying color stickers when you buy your supplies. Packing boxes and then color-coding the box with a sticker will make it easier when unloading boxes in rooms at your new home. Buy colored stickers and use a different color for each room. It's quicker than labeling each box but still makes it clear to the people moving your items what room it needs to go in. It's also important to draw an arrow indicating which side goes up during transit and once it arrives at its destination.
If you're packing items for moving or just for mailing an item for shipment, your goal is probably to find the cheapest packing supplies. It's still important to do your homework when to ensure your items arrive safely. Case in point: bubble wrap. Although most people think any size of these packing materials for shipping will work, it's important to choose this packaging supply carefully. Generally there are three common sizes of bubbles: small- 3/16", medium- 5/16"and large- 1/2". Use small packing supply bubble wrap to wrap items to protect the surfaces from scratches, chips and dents. Medium bubble wrap is also great for surface protection, but is also big enough to provide some shock absorption, so it works well in a box with breakable pictures, large art work, mirrors, etc. Use large bubble wrap for filling space in a box. It is more economical and practical than using packing peanuts.
When using bubble wrap in packing materials for shipping, be sure to wrap items with the bubbles on the inside, facing the item you are wrapping. This allows the bubbles to absorb the shock and filter it, to protect the item. You should also avoid wrapping an item too tightly in bubble wrap when using these packing /shipping supplies. Multiple layers can actually compress the bubbles, lessening the shock-absorbing affect.
Protective foam pouches are also useful whether you are packing to ship an item or packing for a move. Packing /moving supplies in thin foam provides a lightweight layer of protection that doesn't add too much bulk. Generally pouches are sized to fit plates and dishes, but also work great for smaller items such as home décor pieces or electronics when packing. Supplies such as a dish pack partition kit is also invaluable when it comes to packing items that need to be separated.
Packing for a move can be daunting, but getting an early start can make the task seem more manageable. Buy packing supplies 4-6 months before your move so you have some on hand to pack boxes of items you know you will not need immediately.
If a move is in your future, and you're not sure where to buy packing supplies, look no further than US Cargo Control for all of your shipping /packing supplies. If you have any questions about any of our products, contact our sales team toll free at 800-989-4863. One of our shipping/ packaging supplies experts will be happy to help you.
Need packing supplies fast?
Concerned about shipping times? Since our warehouses are located in the Midwest we offer great coverage nationwide with standard ground shipping. Expedited shipping is always an option too:
Average delivery time for packing supplies – San Diego: 4 days
Average delivery time for packing supplies – Houston: 3 days
Average delivery time for packing supplies – Miami: 3 days
Average delivery time for packing supplies – Las Vegas: 4 days
Average delivery time for packing supplies – Austin: 3 days
Average delivery time for packing supplies – NYC: 3 days