Eye to Eye Slings
Versatile design, with loops or "eyes" on each end
Available in polyester, nylon, or wire rope
Custom options available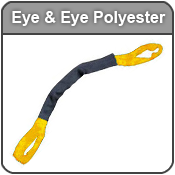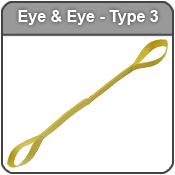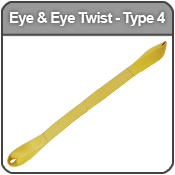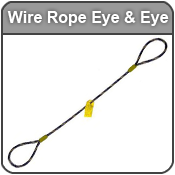 Eye to eye slings are a type of lifting sling that have an eye or loop on each end. Available in polyester, nylon, and wire rope, these eye slings are available in a range of capacities.

Nylon eye to eye lifting straps are our most popular type of standard eye sling, with two different variations available: type 3 flat which have the eyes lying flat and type 4 twist, in which the eyes have a twisted profile. Although very similar, the eye style does dictate which types of hitch can be used with the sling.

A polyester eye to eye sling is similar to the nylon eye & eye, but the polyester fabric has less stretch than nylon. Polyester eye to eye slings are also color coded by capacity to make it easy to determine the correct sling to use. A polyester eye & eye sling can be used in all three hitch types: vertical, basket, and choker.

Our wire rope category of lifting slings also includes lifting cables with eyes on each end, but rather than called an "end to end" sling, they are usually referred to as a single leg wire rope sling. Other variations of our 6x19 single leg wire rope sling include one with a slider choker, as well as an option in an ultra-flexible galvanized aircraft cable. Another variable with wire rope slings is the numerous fittings available that can be used to customize a sling: standard eye, crescent thimble, slip through thimble, hook, and thimble.