Endless Lifting Slings - Nylon and Polyester
Available as a type 5 nylon sling or a polyester sling
Lightweight and extremely flexible
Conforms to shape of load for reduced load damage
Fabric jacket won't harm delicate surfaces
Can be used with all three hitch styles: basket, vertical, choker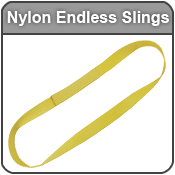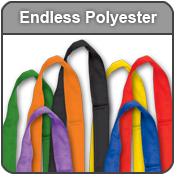 Endless lifting slings are a type of lift sling made from endless loops of yarn covered by a tough, protective jacket in a woven material. Sometimes also referred to as round slings or a lifting round strap, an endless sling is available in either polyester or nylon.
Polyester endless lifting straps have very little stretch compared to nylon, and are color coded by rated capacities for easy and fast identification. Nylon endless straps for hoisting are also called type 5 lifting slings, and offer more stretch which allows the sling to absorb shock when under load.
Lightweight and extremely easy to handle, both polyester and nylon endless slings offer many benefits:
Can be used with all hitches
Wear points can be shifted to extend sling's working life
Conforms to the shape of the load, reducing possibility of damage
Fabric jacket won't scratch load surfaces
Generally more cost efficient than wire rope or chain lifting slings
Easy to handle and store
How to measure:
To measure an endless lifting sling, stretch the sling end to end and measure from tip to tip. The length of the sling is NOT the total circumference.