Deluxe & Economy Boat Slings & Boat Lifting Straps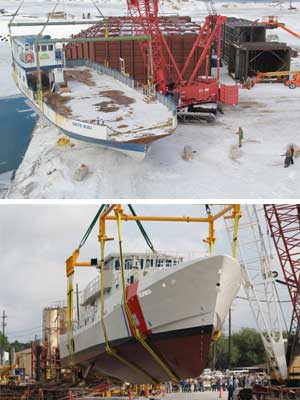 Boat lift straps, also called boat hoist slings, are designed to lift boats safely and securely.

Boat straps are typically made of polyester because of its low stretch value (3% at working load limit; maintains 100% of working load limit when wet). Nylon boat slings are also available upon request, but nylon's higher stretch value (6-8% at working load limit; loss of 15% of working load limit when wet) make them a less popular option. Polyester is also superior to nylon in its ability to reduce hull markings and is resistant to acids used to clean the boat's hulls. However, polyester straps should not be used near caustic materials.

US Cargo Control works with a quality sling manufacturer in the USA to offer a range of boat lift slings:

Economy marine boat lift straps
Manufactured of 1- or 2-ply nylon
Used for lifting smaller recreational boats, canoes, kayaks, etc.
Deluxe heavy duty boat lift straps
Available in up to 4-ply thickness
Used for replacement of boat lift straps for a travel lift / mobile boat hoist
Because there are many different options in sizes and styles, our boat lifting slings are made to order, and therefore, not returnable.
To request a quote for a custom boat sling, complete the form below and a member of our sales team will contact you. You can also call us at
855-205-7323

if you have questions or would like more information.Don't need a custom boat sling?

See our complete

nylon lifting sling

category.

Return to Top of Page After Clicking "Submit"