Chain Slings & Lifting Chains

Chain lifting slings are ideal for applications when extra strength is required, or environmental hazards such as chemicals or excessive heat may be present.
Chain slings are also an excellent choice if customization is required. Standard, adjustable, endless, and basket slings can be configured a number of ways to ensure it meets the needs of the lift.
Types of chain grade: Grade 80 chain, Grade 100 chain, Grade 120 chain
We offer grade 80 chain slings, grade 100 chain slings, and grade 120 chain slings. All three grades are safe for overhead lifting, making them ideal for a lifting sling. All three are alloy chain for exceptional strength, but a grade 100 sling can lift approximately 25% more than a grade 80 sling.
All of our chain slings for lifting are manufactured with chain that's made in the USA chain and European hardware for superior quality.
Both grades of chain feature a protective thermo plastic styronated acrylic coating, making it 300-400% more resistant to corrosion than standard steel finishes. The finish is Grey Armour on grade 100 chains and Black Armour on grade 80 chains.
Grade 120 chain slings feature grade 120 chain, a high performance chain that's relatively new, but also available by calling our sales team at 866-878-9355. It features a 50% higher working load limit than standard Grade 80 chain and 20% higher work load limits than standard Grade 100 chain. It's manufactured with square links, resulting in a lighter weight and increased resistance to bending under pressure. Grade 120 chain also has a distinctive blue painted finish for quick identification and extra corrosion protection.
Chain sling types
We sell four main types of slings: standard, adjustable, endless, and basket. Several different options are available, including number of legs, size of chain, and grade of chain. Custom options for various end fittings are also available by calling our sales team toll free at 866-878-9355.
Standard chain sling. Features one, two, three, or four lengths of chain, each with a sling hook with latch at the end, and attached to a master oblong link at the top.
Adjustable chain sling. Designed with the same leg configuration as a standard chain sling, but also has one-four 6 inch lengths of chain with a grab hook also attached to the oblong. This enables the operator to shorten the length of the leg as needed.
Endless chain sling. An endless sling is simply an endless loop of chain attached through a master oblong link. There are no hooks.
Another variation is an endless basket sling which is two loops of chain attached through the same master oblong link. For more information on our endless chain slings, or to place an order, give our sales team a call at 866-878-9355.
Basket chain sling. A basket sling is similar to an endless basket sling;however, it's generally one length of chain with each end of the chain attached to the master oblong link. A double basket sling has two lengths attached each to their own oblong link, with the oblongs then attached to a master oblong link. For more information on our basket chain slings, or to place an order, give our sales team a call at 866-878-9355.
How is the reach of lifting chains calculated?
A chain sling's reach is measured length from the load-bearing point on the sling's master link to the load-bearing point on the opposite end when the sling is pulled taut.

End fittings
The customization of lifting chain slings with various end fittings is what makes sling chain so versatile and appropriate for a wide variety of lifting jobs. Our alloy chain slings are fitted with a latched sling hook on the legs and grab hooks on the shorter legs of the adjustable slings, but different hook types are available by calling our sales team at 866-878-9355.
Common end fittings include:
Slip sling hook

A large throat hook used primarily at the ends of chain slings. Usually self-locking to avoid disconnect.
Grab sling hook

A small throat hook that attached to the chain by sliding over the chain in between links. This hook locks into place by grabbing the chain, and will not slide along the chain.
An extra-large throat hook used in unique situations that require a larger opening to manage loads.
Self-locking sling hook
Designed to pivot in the middle and locks when lifting pressure is applied. This hook cannot be opened while unit is lifted with your overhead lifting chains.
An oblong shaped ring used at the top of chain slings.
Bulk chain
We also sell bulk chain in grade 70 chain, grade 80 chain, grade 100 chain and grade 120 chain. Give our sales team a call at 866-878-9355 for more information and to place an order.
Other types of lifting slings
Overhead lifting chain slings are ideal for a range of heavy duty lifting jobs. If your application requires a different qualities, such as flexibility or stretch, see our entire selection of lifting slings, which includes fabric such as nylon slings and polyester round slings, as well as heavy duty wire rope slings.
If you need help selecting a lift sling, see our How to Choose a Lifting Sling page or call our product specialists at 800-660-3585. They'll be happy to any answer questions you have.
Chain sling safety
Always use within posted working load limit
Distribute loads evenly;an unequal load on one leg can create a dangerous situation and damage the sling
Rapid or sudden stops, impacts, and lifts should be avoided
Do not allow a chain length to be twisted or tied into a knot
Do not use slings with damaged, defective, or worn chain
Protect sharp edges and corners accordingly with padding or protectors to keep chain from coming in contact
Don't forget to inspect hooks- never use if bent or distorted in any way
Load hooks should never be tipped or pointed;a latch should never support a load
Clean chains prior to inspection;oil and dirt can hide chain damage
Standard sling designations
Most chain slings will generally consist of a master link, a chain leg or legs, and a fitting such as a hoist hook. Sling manufacturers use a standardized sling designation using a three letter combination.
The first letter indicates the number of legs: S=Single Leg, D=Double Leg, T=Triple Leg, Q=Quadruple Leg, C=Single leg with normal chain link on the end with no fitting.
The second letter indicates they type of master link: O=Oblong Master Link, P=Pear Shaped Master Link, S=Sling Hook, G=Grab Hook.
The third letter indicates the style of hook: S=Sling Hook, G=Grab Hook, F=Foundry Hook, L=Latchlock Hook, O=Oblong Link
For example a sling with designation (model) SOG has a single leg (Letter S), with an Oblong Master Link (Letter O) and a Grab Hook (Letter G).
Because chain sling suppliers can customize the configuration which will vary the work load limit and break strength, our chain slings are proof-tested to 2x the vertical rating. A metal ID tag is attached and is stamped with the information below. A written certification is also included with the shipment at no additional cost.
Sling style
Serial number
Chain size and grade
Length
Working load limit at degree of lift
Our lifting chain slings are manufactured with Made in the USA chain and European-made fittings for quality you can count. All of our chain meets or exceeds the latest guidelines of the National Association of Chain Manufacturers (NACM), ANSI B30.9 standards and OSHA specifications.
Because our lifting chains are made to order, there is a standard lead time of 1-3 days prior to shipment for assembly.
Chain wear
Even with proper care, chain will eventually begin to wear over time. It's important to regularly inspect the links of overhead lifting chain for minimum allowable thickness. Once it's worn below this measurement, it should be removed from service.

Heat's effect on chain slings
While sling chain is considered extremely strong and durable, excessive heat can have an effect on the working load limit of a sling. Chain lifting slings used in excess of 400 degrees will experience a reduction in strength, both during exposure time and after exposure. See guidelines below. NOTE: OSHA 1910.184 requires all slings exposed to temperatures over 1000º F to be removed from service.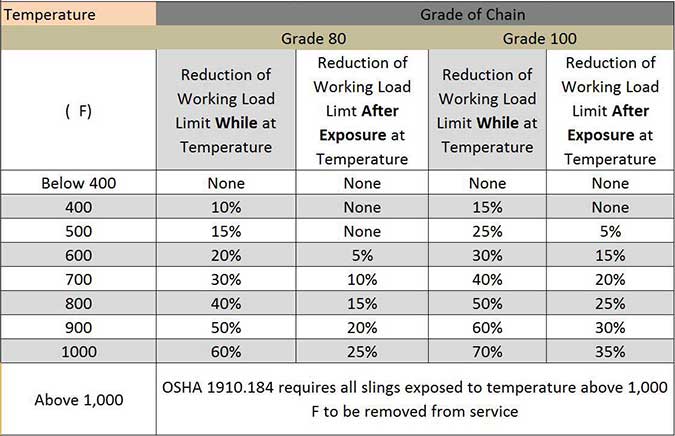 Looking for chain for tie down applications? Check out our
transport chain and binders
page.