Rubber Tarp Straps
- Brennan M.
"Choose your straps based on your climate: natural rubber for colder climates and EPDM rubber for hotter climates. If you have questions, give us a call."

Shop Natural Tarp Straps
Best in cold weather

Shop EPDM Tarp Straps
Best in hot weather
Rubber Tarp Strap Measured Length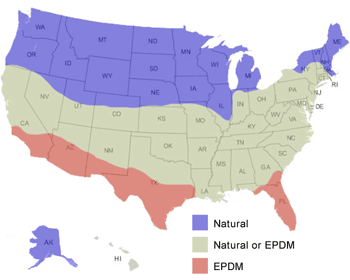 Our rubber tarp straps are excellent for a variety of tie down uses. Designed with rubber and wire S-hooks, they're ideal tie down straps for securing tarps as well as cargo on trailers, trucks, campers, etc.
Although rubber tarp straps may all look alike, there can be difference in the rubber. We carry rubber tarp straps made from both natural rubber as well as EPDM (ethylene propylene diene monomer - M-class) rubber. Natural rubber straps are good for cooler, northern climates because they will not become brittle, crack or tear in freezing temperatures. Straps in EPDM rubber are an excellent choice for hot climates and extended sun exposure since they can better resist degrading from UV rays. A natural rubber tarp strap will also have slightly more stretch and will snap back more readily to its original state than EPDM.
We offer a variety of lengths of rubber straps to work for nearly any light-duty tie-down job. Choose from 9", 15", 21", 31" and 41", all available in bundles of 10 or boxes of 50.
All straps have a 2" S-hook on each end and are designed with the rubber fitting snug round the hook to reduce the chances of slipping. The 9", 15", 31" and 41" lengths in both natural rubber and EPDM are uncrimped, so the hooks can be removed. The 21" size in natural rubber is crimped. The hooks make it easy to attach to the holes in the sides of a truck bed as well as hooks, pan fittings and anchor point tie downs on other trailers and vehicles. Rubber tarp straps are measured from bottom of hook to bottom of hook.
Our tarp tie downs are available in quantities of 10 or 50. Need lots of quality tarp straps? Discounts are available, call
866-348-3473
for more information.
Other tie down options
Rubber tarp straps are a great choice for smaller, light-duty jobs. If you need tie-down equipment in custom lengths or with less or more elongation, check these additional options: