Custom Capabilities
What you want, when you need it.
Every business is different, and so is every business need. We take your needs very seriously, and strive to get you what you want, when you need it. With an in-house manufacturing facility in the heart of the Midwest, we have a wide range of products we custom-manufacture and tailor to your needs.
Minimum quantities may apply to custom orders. Bulk pricing may also be available. Call today to speak to a sales specialist.
With questions about any of these custom capabilities, or if you're curious about anything else we can do for you, please call us at
866-444-9990
.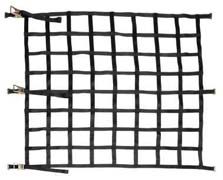 Trucks and cargo come in different sizes, shapes and styles. Cargo nets should too. Our custom-made cargo nets are manufactured in-house, to your specifications, to ensure you get exactly the net you need for your application. Customize your net by:
Webbing
Dimensions
Tensioning devices
Attachment hardware
Learn more about
custom cargo nets here.
Call
888-794-1319
to speak to a sales specialist about custom cargo nets.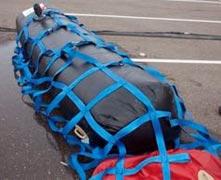 We have created custom nets for a variety of uses outside of the transportation and rigging industries. Our nets have been used anywhere from movie sets to professional obstacle courses to NASCAR races. Whatever your application, we can create what you need. We can customize these nets with the same considerations as we customize our cargo nets.

While these heavy-duty custom-made nets are extremely versatile, keep in mind there is no rating for non-traditional applications, so the user assumes liability for any extraneous uses.

Call 888-794-1319 to learn more about our custom netting capabilities.
As one of the fastest-growing manufacturers of tie down assemblies in the country, we're equipped to handle whatever your cargo control needs entail today, next month, or next year. Because we manufacture the straps we sell, we can customize the straps easily and quickly. Customize your straps by:
Webbing
Custom Stenciling
Hardware
Custom Tags
Call
866-444-9990
to speak to a sales specialist about our
custom tie-down options.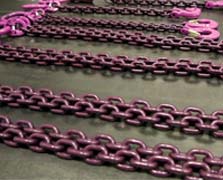 We manufacture chain slings on-site with Grade 100 alloy chain and fittings from KWB, a Pewag company. This European-made chain comes in a high-visibility signal violet color that is easily identifiable in the field. Customize your chain slings by:
Number of legs
Chain Dimension
End fittings
Chain length
Call
866-878-9355
to speak to a sales specialist about our
custom chain sling capabilities
.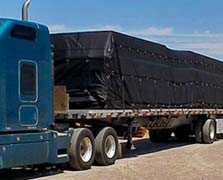 We carry a variety of flatbed tarps on our site. We also have manufacturing capabilities for custom-made tarps in our Midwest facility. Our custom tarps are made with a high-quality, highly durable, 18 oz. waterproof PVC coated polyester and stainless steel D-rings and grommets. Customize your tarp by:
Material color
Size of tarp
Number of flaps
Number of D-rings
Amount of D-ring rows
Placement of D-ring rows
Amount of grommets
Spacing of grommets
Call
888-794-1737
to speak to a sales specialist about our custom tarp capabilities.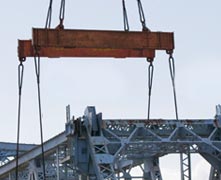 Lifting Beams and spreader bars are designed to safely and efficiently lift heavy loads with a crane. These both come standard as fixed or adjustable, and their hardware options can be easily customized with various hooks or shackles.

Call 888-794-1029 to speak to a sales specialist about lifting beams and spreader bars.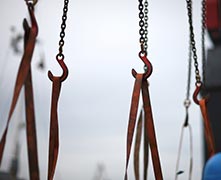 Lifting slings are used in a wide variety of applications, and can be customized in different ways. Choose your material, size, plies, hardware, and configurations. We offer a variety of heavy-duty lifting slings that can be customized to your application:
855-205-7323
to speak to one of our lifting sling sales specialists today.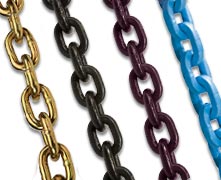 Our transport chain comes by the drum, or by the foot, and any length in between. Grade 70 is the traditional grade for transport chain, but Grades 80, 100 and 120 can also be used. Customize your transport chain by Grade, end hooks, length and chain diameter. Call 866-444-9990 to find out more.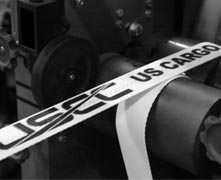 Branding your products makes for a polished, professional look. Whether it's stenciling your logo or company name on your straps, applying your logo to a tarp, or displaying your logo and contact information on tags for many different products, we can personalize your order as you want. We can even ship your product using customer-provided boxes if you want branded packaging.

If you have any questions about this, or questions about anything else we could help you with, give us a call at 866-444-9990.