About US Cargo Control








As a leader in the cargo control, rigging and lifting, and moving supplies industries, our top priority is getting you the quality products you want, when you need them. How do we do it?
Our products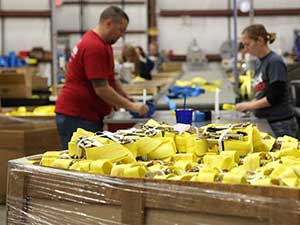 We have thousands of items in stock ready to ship and we manufacture countless varieties of tie down straps in-house every day. Don't see something you need? Let us know- there's a very good chance we can track it down for you.
Our people
Unlike most e-commerce sites, we have a staff of trained product experts available by phone if you have any questions, need a custom-made product, or simply would rather just place your order with a person rather than online.
Call us at 866-444-9990
7:00am - 5:00pm Monday through Friday
(All times central)

You can also email us at: customerservice@uscargocontrol.com.

Our promise
Our centrally-located facility in Eastern Iowa means delivery time is just 1-3 days for most areas of the country. If a shipment will take longer, we'll let you know. We treat custom orders with the same priority and always strive to get your products when you need them, not when it fits into our production schedule.

Ready, set, go
We've created a list of some of our most popular products to make it easy to get started shopping. Be sure to check the bar at the left for even more choices.
How About You?
Have photos or videos of our products? Have a funny or unique story to tell? We'd love to know more and possibly feature it on our USCC Blog or Facebook page! Send your photos, video, and story to: customerservice@uscargocontrol.com. Don't be shy; show us how you put our products to the test.

Keep up on the latest happenings via our US Cargo Control blog, our US Cargo Control Facebook page or follow @uscargocontrol on Twitter by clicking here.